Opening Night, Episode I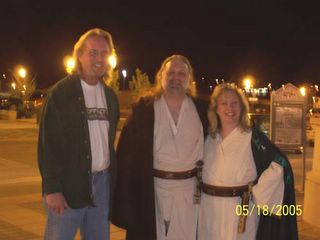 The first fans we encountered were Jim Moncher and Danine Schell. What lovely people! Both dressed in Jedi robes, they happily spoke to us about their love of Star Wars and costuming.
Jim is a member of the
Jedi Assembly
and the
Rebel Legion
, both costuming groups. The Rebel Legion is a spin off of the
501st – Vader's Fist
and was formed shortly before
Celebration
II as the good to counteract the evil of the 501st. The Jedi Assembly strictly dress in the old "prequel" costumes with the exception of Luke's costume. Among the several charities they support are
Kisses for Katie
. They have selected charities that have somehow affected members of their orders. In addition to the charities, they often visit children's hospitals. Can you imagine the joy they must bring to these kids?
Jim, also know in Jedi circles as Mon-Jas Charan, has
his own personal website
. Moreover, Jim makes
handmade belts
for Jedi costumes and was nice enough to show us his
homemade light saber
he had just made that morning. You may purchase these belts for your costume. Also, he is a member of the
Rocky Mountain Fan Force
. You will also find that Jim espouses
Jedi philosophy
. Danine, his wife, states "I don't know where he got it, but it's pretty good!"
Danine is a costumer and an actress at Iron Springs Chateau in Manitou Springs, Colorado. She is currently playing Dudley Do Better's dog Buck in the production of Further North to Laughter. This show plays through October. Both costumes they were wearing were made by Danine. The costume Danine was wearing was made originally for Jim for a renaissance wedding, shortly after Episode I. Danine only uses the finest fabrics, including premium wool.
Jim shares a great story about how the actor that played
Kit Fisto
got the part, when he was working at Lucas Arts, because he was about the right size. After seeing Jim's awesome costume, he commented they were better than what they had wore in the movie.
Again, we would like to thank Jim and Danine for speaking with us and giving us so much amazing information.